Lucía Morales joined our group as a new Master student!
7 March 2023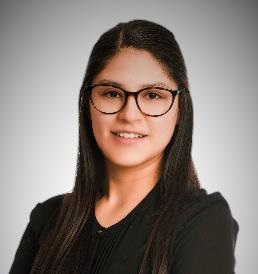 Lucía Morales, a student of the M.Sc. Advanced Materials and Processes at FAU in Erlangen, is joining the group to carry on her master thesis. The topic will complement the research of different catalyst layers (CL) of low Pt metal proton exchange membrane fuel cells (PEMFC) using the in-house built Gas Diffusion Electrode (GDE) in collaboration with Pascal Lauf, a Ph.D. candidate from our group.
But what's new? The project will go into further analysis of the performance of the ORR reaction when changing the Pt carbon support (non-porous and porous) of the CL. Thus, bridging the gap between fundamental and applied research of PEMFC by checking the reaction over the range of relevant FC potentials and current densities thanks to the use of the GDE setup.
Back to all news
---
All news
Joanna Przybysz joined us as a Master student!
1 May 2023
Welcome, Joanna!
---
The Best Poster Award won by Tuani Carla Gentil in the 34th Topical Meeting of the ISE
23 March 2023
Great job, Tuani!
---
Ken has been selected for the HIDA Trainee Network!
17 February 2023
Congratulations, Ken!
---
Konrad successfully defended his PhD thesis
16 December 2022
Congratulations, Dr. Konrad Ehelebe!
---
Carolin Igel joined our group as a new Master student!
21 October 2022
Welcome, Carolin!
---
Visiting researcher Dr. Kavita Kumar also joined our group!
13 September 2022
Welcome, Kavita!
---
Our visiting researcher Dr. Dyovani Coelho just joined us!
12 September 2022
Welcome, Dyovani!
---
Kamyar Parsi joined us as a new master student!
8 September 2022
Welcome, Kamyar!
---
Yunsheng Qiu joined our team as a PhD student!
23 August 2022
Welcome, Yunsheng!
---
Daniel and Konrad will attend the upcoming Lindau Nobel Laureate meeting!
6 May 2022
Congratulations, Daniel and Konrad!
---
Daniel and Ken got an ECS Travel Grant Award!
6 May 2022
Congratulations, Daniel and Ken!
---
Alexandre Nozadze joined our group as a bachelor student!
1 April 2022
Welcome, Alexandre!
---
Our ACS Energy Letters paper is a highly read article!
3 March 2022
Congratulations, Konrad!
---
Tuani Carla Gentil joined us as a guest researcher!
1 March 2022
Welcome, Tuani!
---
New Article out in ACS Energy Letters: Benchmarking Fuel Cell Electrocatalysts Using Gas Diffusion Electrodes: Inter-lab Comparison and Best Practices
24 January 2022
Nice work, Konrad!
---
Successful defenses of our master's students!
24 December 2021
Congratulations, Elisabeth, Marvin, and Nico!
---
Tatiana Priamushko just joined our group as a new PostDoc!
8 December 2021
Welcome, Tatiana!
---
Our latest review "Limitations of aqueous model systems in the stability assessment of electrocatalysts for oxygen reactions in fuel cell and electrolyzers" was selected as front cover in Current Opinion in Electrochemistry.
17 November 2021
Bridging the fundamental and applied science!
---
Dr. Florian Speck won the Jülich Excellence Award 2021!
25 October 2021
Congratulations, Dr. Florian Speck!
---