Marvin Gornik joined our group as a master student!
12 May 2021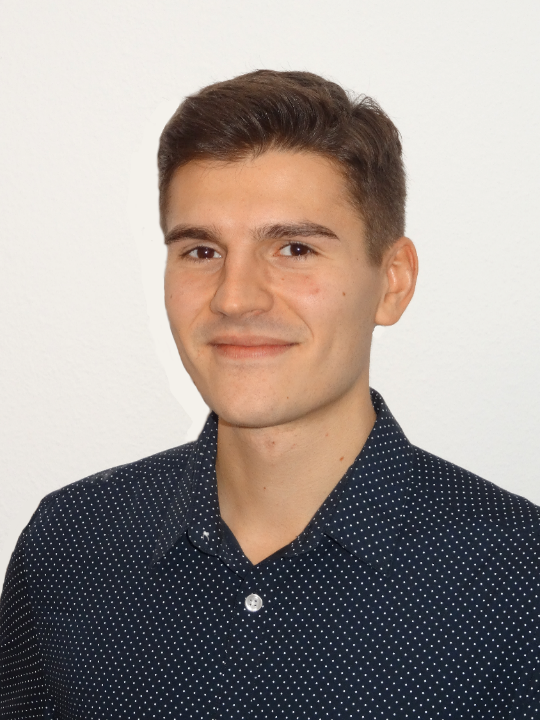 Marvin Gornik from Friedrich-Alexander University Erlangen-Nürnberg is joining our group for his master thesis. He will focus on stability and activity tests of noble metal catalysts for electrooxidation of isopropanol using different polyoxometallates as catalyst mediators. Polyoxometallates have proven to enhance the activity of noble metal catalysts during electrooxidations of alcohols such as methanol or ethanol. However, very less is known about their functioning in isopropanol electrooxidation and their stability. To gain more insights, he will investigate the dissolution of noble metal catalysts modified with polyoxometallates using a scanning flow cell (SFC) coupled with an online inductively coupled plasma mass spectrometer (ICP-MS).
Back to all news
---
All news
Successful defenses of our master's students!
24 December 2021
Congratulations, Elisabeth, Marvin, and Nico!
---
Tatiana Priamushko just joined our group as a new PostDoc!
8 December 2021
Welcome, Tatiana!
---
Our latest review "Limitations of aqueous model systems in the stability assessment of electrocatalysts for oxygen reactions in fuel cell and electrolyzers" was selected as front cover in Current Opinion in Electrochemistry.
17 November 2021
Bridging the fundamental and applied science!
---
Dr. Florian Speck won the Jülich Excellence Award 2021!
25 October 2021
Congratulations, Dr. Florian Speck!
---
Ken's latest publication was selected as the front cover for the upcoming issue of ACS Measurement Science AU.
21 October 2021
Congratulations, Ken!
---
Ina Reichmann is back with us as our new master student!
9 July 2021
Welcome, Ina!
---
Elisabeth Frömsdorf joined us as a new master student in our OER sub-team!
1 May 2021
Welcome, Elisabeth!
---
Gün Deniz Akkoç joined us as a guest researcher!
21 April 2021
Welcome, Deniz!
---
Julius' new paper was published in Nature Communications!
13 April 2021
On the limitations in assessing stability of oxygen evolution catalysts using aqueous model electrochemical cells
---
Nico Röttcher will join us in April 2021 as a new master student!
22 March 2021
Welcome, Nico!
---
Moritz Geuß joined our team as a PhD student!
22 March 2021
Welcome, Moritz!
---
Dr. Victoria Benavente Llorente will be awarded a Georg Forster Research Fellowship and join us!
17 March 2021
Welcome, Victoria!
---
Our collaborative paper on Pt(111) and Pt(100) was highlighted in "ESRF Highlights 2020"!
10 March 2021
The highlight can be found here - http://www.esrf.eu/Apache_files/Highlights/2020/index.html#/page/138
---
Jakob Scholl is joining our group as a master student!
19 January 2021
Welcome, Jakob!
---
Valentín Briega Martos joins our group as a PostDoc!
15 January 2021
Welcome, Valentín!
---
New paper online: Pt dissolution in realistic fuel cell catalyst layers
15 January 2021
---
Pascal Kaiser's master work is awarded with a prize from Evonik Operations GmbH!
21 December 2020
We congratulate Pascal with this achievement and wish him more awards and prizes for his upcoming works in our group!
---
An invited talk at Frumkin readings 2020!
30 November 2020
Serhiy gave an invited talk at the Frumking readings 2020.
---
5 November 2020
Our collaborative paper is selected as a 2020 HOT PCCP article and made free to be accessed until 31.01.2021.
---